Professional Tree Services in North Windham
Welcome to Green Valley Tree LLC
Green Valley Tree LLC is here to provide you with dependable tree service in CT. Our services include tree removals, hazardous tree removals on residential, municipal, and commercial properties. We have licensed arborists that provide services in trimming, plant healthcare, and much more!
Call us today for a FREE estimate!
Are you looking for Tree Services in North Windham?
If you need any of our services like Emergency Connecticut Tree Removal, Lot Clearing, Pest Management, Tree Pruning or if you simply have a question, use the form below to drop us a message!
We Offer Safe and Efficient CT Tree Services
We are here to handle any of your CT tree service needs and make sure that we go above and beyond to make sure you're satisfied. We provide all types of tree services including:
TREE REMOVAL
Remove any tree, at any time! 24/7 emergency services if needed! Contact us today for a FREE quote!
LOT CLEARING
We can remove any amount of trees from your property, at an affordable price. Get your quote today.
TREE TRIMMING
Give it some TLC with our professional Connecticut tree trimming services!
PLANT HEALTH CARE
Give your trees some love with our plant health care tree service We provide pruning, fertilization, and pest control to keep them healthy!
STUMP GRINDING
Don't know what to do with that unsightly stump on your property? Use our stump grinding services today.
BRUSH CLEARING
Green Valley Tree offers brush clearing and vegetation management to residential, commercial, and municipal customers. We can extend the life of the clearing to prevent or reduce regrowth.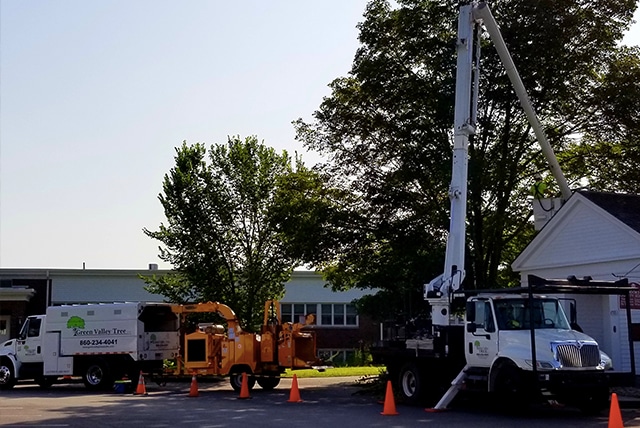 TREE CABLING & BRACING
Trees that may need to be cabled have structural defects that can cause the tree to prematurely split, reducing the lifespan of the tree. Cabling provides support to these weakened areas.
TREE PLANTING
Let us help you choose the right tree for your needs and grow area, and then plant it for you.
MULCH
Mulch is an excellent way to control weeds. Over time, this type of mulch reduces soil compaction and is abundantly available. Mulch doesn't need replacing as frequently as you would replenish wood chips.
The Right Choice For All Your Tree Care Needs
Tree removal and trimming can be a scary job at times. Knowing where, when, and how to cut is key! Green Valley Tree LLC has years of experience in Connecticut tree removal services and can provide you with the best tree service around.
Green Valley Tree also offers emergency tree removal & other tree services in Connecticut. Have an emergency request? Let our certified tree arborist help you for maximum satisfaction.
Why Choose Green Valley Tree LLC?
We do it all
! Residential, family, and Commercial lot clearing, tree removals, removal of dead trees or limbs that pose a threat to humans. We also trim trees back for a better view at an affordable price. You name it we do it!
Free Estimates! We never charge for estimates in CT. Contact us today to schedule a free estimate!
We are Licensed, Bonded, and Insured. We do right by our customers so they can sleep easy knowing their trees, properties, and families are safe if something does happen.
BBB Rating: We are a proud member of the BBB so we can show our clients and future clients we are here to stay! We care about your business not just for today but also for tomorrow.
Superior Equipment: We have the top of line equipment to handle any job, big or small. We will do whatever it takes to get you back to your normal life.
No Job Too Big, Or Small! We will do any tree project you have, big or small, and give you excellent results.
Tree Care Isn't Just Our Job, It's Our Passion.
Our professionals are passionate about trees and it shows! This is why we are the best tree service around. We take 100% of our work seriously. We are available 7 days a week and even work on weekends for emergency tree services in Connecticut. Call our phone number today to discuss more.
Green Valley Tree is proud to offer excellent tree care for trees of all sizes. We have years of experience as CT tree service providers and the know-how to get the job done right, safely, and quickly! Our team specializes in residential tree care, and lot clearing. Our crew is licensed, trained, and insured to remove any tree! We provide professional tree services in the following cities in Connecticut:
Frequently Asked Questions
How Can I Find A Reliable CT Tree Removal Company?
You may be surprised, but with the amount of experienced and trusted CT tree removal companies out there you may have to dig a little bit to find the right one. You can look in your local yellow pages or search online. From there we
would highly recommend you
go through each company website and see what they say about themselves and what their services entail.
Will My Property Be Safe If I Have A Tree Removed?
Yes, it will. In fact, the tree service should go above and beyond to make sure your property is safe. They should do things like putting large tarps or plates underneath to catch anything that falls down as they work on your tree.
How Can I Save Money While Getting A Tree Removed?
If you want to save money while getting CT tree services, then make sure you call more than just one tree removal company. You should be able to get multiple bids for one price as long as you are able, to be honest with them about what the other tree service companies said and gave you in their quotes. 
Do I Need A Permit To Have A Tree Removed?
If your CT tree service company tells you that you need a permit to have the tree removed, then call the town or city office where you live and see if they are correct. If this is incorrect information, they should be willing to back off of it after checking with their superiors. The last thing anyone wants is for you to not be able to have a tree removed after paying them for it.
Can I remove my tree without moving anything?
Our professional CT Tree Removal company will always use the safest and most efficient methods when performing a job on your property.
Why Should I Get My Trees Pruned?
When you let your trees grow wild they tend to not only overgrow their space but also tend to be invaded by unhealthy pests and disease. If you leave the tree alone, these things will destroy it over time. Certain types of insects like termites can damage your home.
How Do I Find A CT Licensed Tree Removal Company?
All Connecticut tree removal companies should have a current license to show you they are trained and educated enough to do their job correctly. If they don't show you this when you first ask, then move on as it is more important than they even tell you.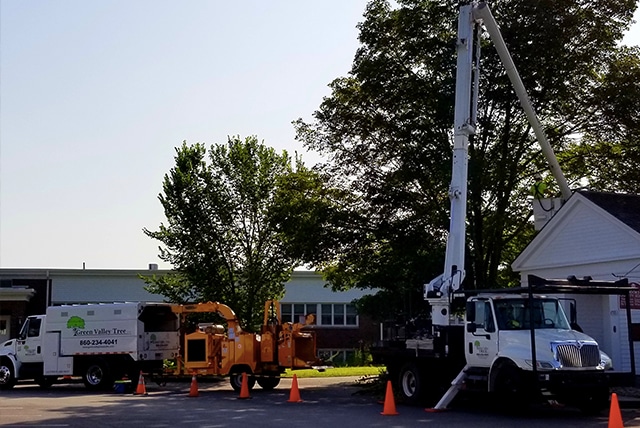 OUR SERVICES
Check out what services we have to offer! From tree removals, lot clearing and stump grinding, we have you covered!
TESTIMONIALS
Don't take our word for it, see what our customers are saying about Green Valley Tree!
OUR WORK
Actions speak louder than words, see us hard at work by viewing pictures taken at our job sites!
Green Valley Tree LLC
577 Boston Post Rd, North Windham, CT 06256
(860) 234-4041
Hours Of Operation
Monday: 9AM–5PM
Tuesday: 9AM–5PM
Wednesday: 9AM–5PM
Thursday: 9AM–5PM
Friday: 9AM–5PM
Saturday: Closed
Sunday: Closed
Licensed & Insured Tree Services in North Windham, Connecticut
Green Valley Tree LLC
is located at 577 Boston Post Rd,
North Windham
, CT, 06256. From
Bradley International Airport (BDL)
, head north and then take a slight left. Continue straight and then keep right to continue toward Bradley International Airport Con. Continue onto CT-20 E/Bradley International Airport Con and then take the exit onto I-91 S toward Hartford. Next, take exit 35A for I-291 toward Manchester. Continue onto I-291 E, and take the take the I-384 E exit. Continue onto I-384 and then continue onto US-44 E/US-6 E. Next, keep right at the Y junction to continue on US-6 E, follow signs for Willimantic/Providence. Turn left to stay on US-6 E. Finally, use the right 2 lanes to turn right to stay on US-6 E (signs for Windham Arpt/Danielson/Providence) and Green Valley Tree LLC will be on the left.
We're open Monday to Friday from 09:00-17:00.
For additional questions you can call us at (860) 234-4041 or you can find us on
Yelp
.